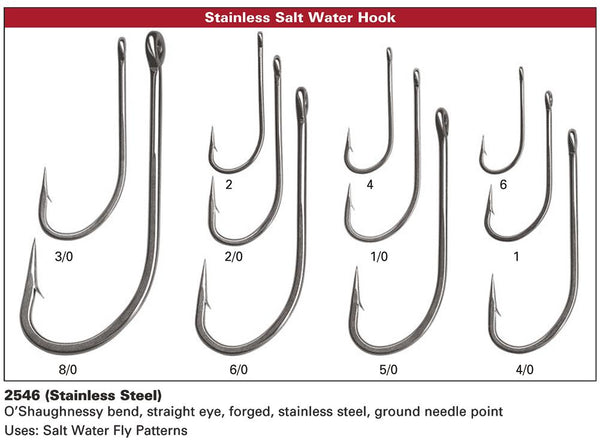 OVERVIEW
The O'Shaughnessy hook is a traditional, time honoured design that has survived from the days of hand-made hooks with little change. The distinctive bend, straight eye, short shank, and flat forging are key elements that combine to form this efficient fishing tool. Modified for saltwater fishing these hooks are made of stainless steel. This standard hook is useful for all kinds of fishing situations, especially in bottom searching steelhead flies.
Daiichi does not chemically sharpen these hooks because the process does not work favourably with this alloy. These hooks have ground needle points. They will not rust in salt or brackish waters.
The hooks are made of the finest high-carbon steel, which is hardened and tempered to an exacting formula that makes for a long point life and a very strong hook. Daiichi hooks use a 12-degree constant taper ground needle point. This eliminates irregularities in shape, assuring no weak spots, and gives amazing speed of penetration.
 FEATURES
O'Shaughnessy bend
Straight-eye
Stainless-steel finish
Uses: Saltwater fly patterns
PACKAGING/CONTENTS
| | |
| --- | --- |
| Hook Size | Quantity/Pack |
| Size 6/0 | 6 per Package |
| Size 5/0 | 7 per Package |
| Size 4/0 | 8 per Package |
| Size 3/0 | 10 per Package |
| Size 2/0 | 12 per Package |
| Size 1/0 | 15 per Package |
| Size 01 | 20 per Package |
| Size 02 | 20 per Package |
| Size 04 | 20 per Package |
| Size 06 | 20 per Package |
| Size 08 | 20 per Package |