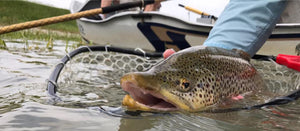 BOW RIVER GUIDED FLY FISHING TRIPS
The Bow River flows from Bow Lake in Banff National Park and through the beautiful Canadian Rockies before cutting through the city of Calgary and continuing its journey toward the Canadian Prairies. The lower stretch of the Bow River – the section below the city of Calgary – consists of 55 kilometers of nutrient-rich water that's renowned for its abundant numbers of trophy-sized rainbows and browns. Fish Tales is located just minutes from the world-renowned Bow River which is where we focus most of our guided experiences. Join us pre-runoff in April/May or throughout the summer and early fall. Whether you're a dry fly enthusiast, newcomer to the sport, or crazy about nymphing or chucking streamers our guides will work hard to give you a day to remember.
The guide on the oars is what will make your day on the water more memorable. Our guides all love what they are doing. They're all guys who are easy to spend a day in the boat with. Their enjoyment comes from watching you catch fish. Their enthusiasm is contagious. Top that enthusiasm with quick access to the river, a full-service/well-stocked fly shop complete with knowledgeable staff, and tasty lunches and you know you've made the right decision to book your next Bow River adventure with us.
2023 GUIDE RATE $700/DAY
Includes: 1 or 2 anglers per guide, a deli-style lunch, full day on the water with the guide's undivided attention, and equipment if necessary.
CALL (403) 640-1273 TO BOOK YOUR TRIP!
"David & Nancy are outstanding in every capacity. Love their shop and especially their guides for trips on the Bow River. Terry is THE guide on the Bow River!"
-- The New FlyFisher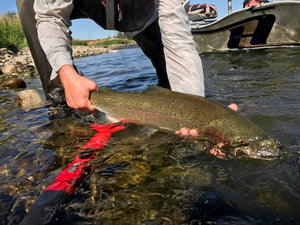 What to expect
Guided days on the Bow generally run 8-10 hours or more. Guided days typically start and end at the Shop. Start and end times vary somewhat depending on the time of year.
Clients who book a guided day with Fish Tales have access to our loaner waders/boots for their day on the water (included in the daily rate.) All our guides also have boat rod setups for use by clients. Of course, if you have your own gear – and want to use it – please bring it.
Our shop staff will ask you a few questions when you make your reservation that will help us co-ordinate your day with your guide. And we'll be in touch with you again a few days before your float to finalize start times, dietary needs, and other details.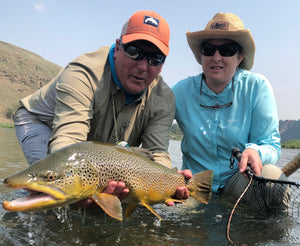 BOOKING & CANCELLATION POLICY
Guided trips can be booked via email or by contacting the shop at 403-640-1273 or toll-free at 1-866-640-1273 (North America.) We require 50% deposit per boat/day when you book. Your deposit – minus a $50 handling fee – is refundable with 30 or more days notice of cancellation. Should you cancel (including re-scheduling) your booking with less than 30 days notice your deposit is non-refundable. Payments can be made via cash, debit, cheque, Visa, or Mastercard, or etransfer.
If the Bow River is deemed "un-fishable" by Fish Tales management and/or guides we'll refund your money in full, take you to another area, or apply your deposit to another date.
Please book early to ensure your choice of dates.
Safety and Legal Considerations
Personal flotation devices must be worn within the city limits at a minimum.
No alcohol or cannabis permitted.
All trip participants must sign a waiver of liability before their trip. 
Daniel Zbylut
Guid profile coming soon