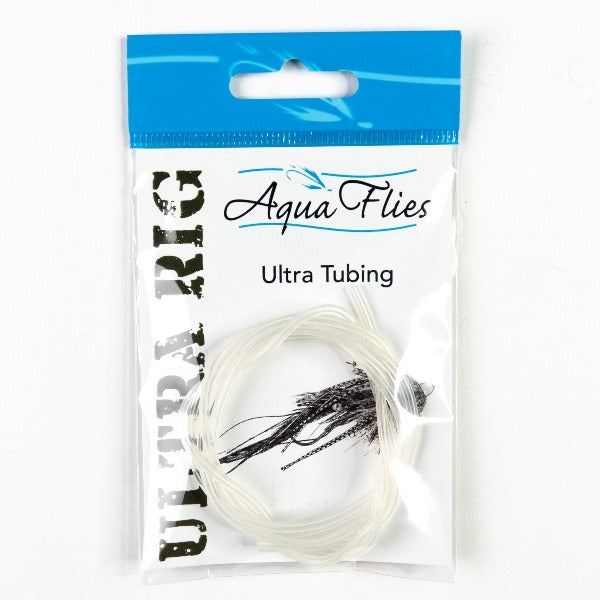 Aqua Flies Ultra Tubing can be used for the "Ultra Rig" and as the perfect junction tubing for rigging intruder flies the old school way. Ultra Tubing fits perfectly onto an Aqua Flies shank and fits firmly over the eye of a hook. This style of rigging allows the hook to be placed in the optimal position behind the fly. Aqua Flies Ultra Tubing remains flexible in all weather conditions, even below freezing.
It is easy to rig a fly that is tied on a shank with no trailing loop. First thread your tippet through the eye of the fly. Run the tippet over the top or the bottom of the fly, and comb the materials around the tippet so the tippet is not smashing the fly. Take a short piece of Ultra Tubing and thread the tippet through the tube. Fit the tube onto the end of the shank, tie on your hook to the tippet and pull the tippet until the eye of the hook is in the tubing. At this point you can twist the hook into the position you prefer.

Ultra Tubing can also be used on Aqua Flies Poly Tubes. Cut the back of the 1.8mm Poly Tube to a sharp point, then slide the Ultra Tubing onto the Poly Tube.